Price: US $ 50 person.
Distance: 16km / 9.94miles
Duration: Full day – 2:20 am-7pm
Elevation: 4350m (14,271 feet) – 5135m (16,896 feet)
Difficulty: moderate / difficult

DESCRIPTION
This one-day hike to the Rainbow Mountain in Peru will leave you with a wonderful experience. Enjoy this new route rarely visited (rainbow mountains in Peru); An adventure that will fascinate you constantly. With a combination of colorful landscapes, covered with snow. Ordinary rivers, challenging climbs, towering condors, vicuñas, flames, alpacas, chinchillas and pumas all seemed intact and undiscovered.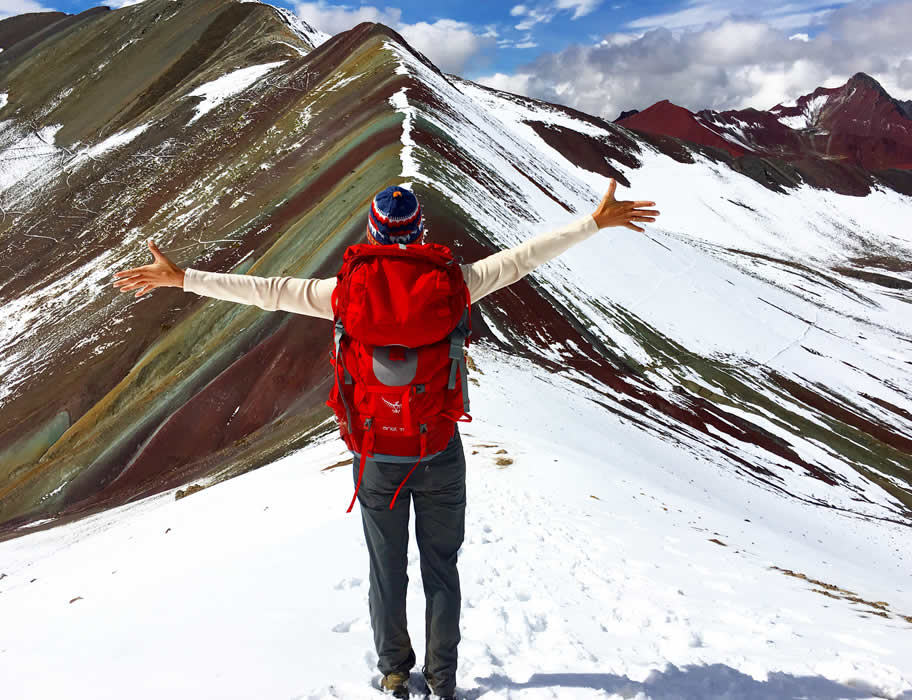 CONSIDERATIONS
Day trip to Rainbow Mountain a challenging hike. You must be fit. We really recommend spending at least 3 days in Cusco to acclimatise. You will walk about 4300m (14,100ft) and it is about 16 kilometers in length (9.9419 miles) in total length, with a gain of 715m (2,260 feet) elevation. This hike is difficult because of the altitude.
ITINERARY
We will pick you up from CASA UNION CUSCO around 02:15. We will drive almost 3 hours in a private van for the start of the hike. Our private chef will provide you with hot breakfast on arrival to stock up on fuel for the hike ahead of you. You will walk around 3-4 hours (depending on how your speed is). After enjoying the Rainbow Mountains for about an hour we return to the trail (2-3 hours), where we give a delicious meal by our professional chef and we return to Cusco arriving at your hotel around 7:15 pm.
What is included?
English speaking guide plus a large group guide wizard.
Appetizers.
Breakfast
lunch
Additional horses for horseback riding can be provided for an additional fee.
First aid kit, including oxygen.
An information session prior to the walk.
Tickets to Rainbow Mountain, including Machu Picchu.
Private tour bus round trip.

What is not included?
Personal trekking equipment including, backpacks, trekking poles, sleeping bags. However, they can be rented from the company.
Gratitudes by guides,
Personal riding horse. Additional horses can be rented according to the needs of the person and the group.
Dinner
Water resistant trekking shoes and sandals
Hot clothing (thermal underwear, fleece, hat, gloves and socks)
Waterproof clothing (poncho)
Synthetic or cotton clothing (socks, trousers, shorts, t-shirts)
Sunhat and sunglasses
Sun cream and insect repellent
Bottles of water like Nalgene
Basic Medications
Canes
Personal stuff
Personal Snacks