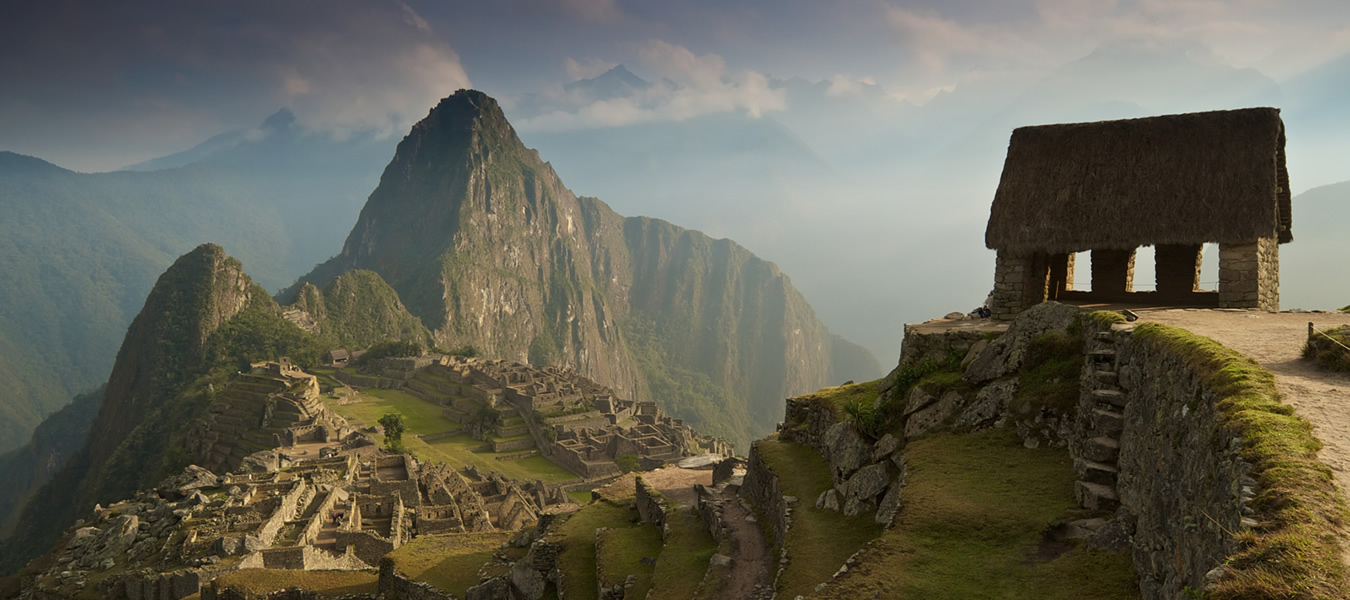 OVERVIEW: Machupicchu exclusive
his tour is highly recommended for people who want to enjoy the Inca citadel of Machupicchu, the great world wonder, without the pressure of time. It will really help you to enjoy a unique show like the sunrise in Machupicchu, walk to the Mandor waterfalls, the Manuel Chavez Ballón museum, to appreciate a variety of orchids, thermal baths where you can relax. It is highly recommended for people of all ages, the tour begins and ends at your hotel in the city of Cusco. Guaranteed daily excursions for single people and groups. (Contact us for better prices)
Day 1: CUSCO - AGUAS CALIENTES with Peru Rail Expedition Train
Pick up from your hotel in Cusco between 06:40 am- 6:50 am. Transfer to the station of ollantaytambo at 1:30 hrs from the city. The trip by train is wonderful, it offers spectacular views in this wonderful land of the Incas, legendary, unique, incredible landscapes of immense mountains and inter-Andean valleys and to descend to part of Ceja de Selva where this wonderful Inca citadel is located, the lost city of the Incas, you will appreciate on the way Inca terraces of corn, quinoa, tubers, cereals, etc. on both sides of the valleys, the snow-capped mountains of the Cordillera del Vilcanota, the stately mountain Veronica that blesses all and the subtropical jungle near the jungle brow near Machu Picchu. From the town of Pachar very close to Ollantaytambo the sacred river Willcamayo or Vilcanota will be our companion in this magical journey until the end of the arrival to the town of Aguas Calientes located at (2,040 masl) also known as Machupicchu Pueblo. A representative of the agency will wait for you at the train station and accompany you to the hostel where you can set up and prepare to go to lunch. From 2.30 pm you can enjoy free time walking through the local markets, the Botanical Garden, the new Machu Picchu museum or walk to the Mandor Waterfalls (3 hours). Or for the more daring, at 7:30 p.m. the guide will be going through you to present and give the indications so that the next day they do not have any inconvenience. You may want to relax in the Hot Springs at night (20 Soles). The accommodation will be at the Hotel (comfortable, safe and clean)
Day 2: Machu Picchu - Guided Tour - Ollantaytambo - Cusco
Breakfast early at 05:00 am in the hostel. Then we are ready to embark on the first bus to the citadel of Machu Picchu this tour will take 30 minutes and we can enter at 06:00 a.m (please have your passport in hand). We will have a guided tour of the Machu Picchu Citadel before the crowd arrives and the site is completely crowded, it takes approximately 2 to 2.5 hours and we will know the most important areas of this sanctuary, viewpoints, temples, residences, stairways, patios, sacred temples etc all the best places and all the archaeological sites in which our guide will delight you with their explanations and theories. After our interesting tour you have enough time to explore more on your own (2 to 3 hours), walks to the top, way to Puerta del Sol or the Inca bridge. To climb the mountain of Huayna Picchu requires (1.5 -2.0 hours) we recommend booking in advance of 6-5 months. We suggest enjoying this day touring all the sectors that make up this magical citadel, and you should walk a lot and climb hundreds of steps.
Transfers Hotel / Ollantaytambo Station / Hotel
Expedition roundtrip train tickets in economic touristic Expedition service.
Entrance to Machu Picchu Solo
Bus tickets up and down to Machu Picchu.
Hotel in hot waters
Roundtrip train tickets
Professional guide in Spanish or English.
Fees and agency / reservation services, purchase of tickets.
All the taxes.
Extra expenses.
Feeding.
Airplane tickets.
Tips.
Expenses and services not mentioned in the itinerary.
Wear shoes or light shoes or tennis shoes.
Drink lots of liquid in your tours.
Waterproof (long poncho) in rainy season.
Long sleeve shirts.
Long pants.
Insect repellent.
Sunscreen, wide-brimmed hat for sunny days.
Binoculars.
Sun glasses, plastic bags.
Medicine and / or articles for personal use (liquid for contact lenses).
One backpack or light briefcase per person.
Camera or camcorder and movies.
Bring original documents with which they made their reservation (ID, Passport, Student visa, University card only for Peruvians).
Have your migration card with you (in case of overnight in hotel Machupicchu town).
Have on hand bills and coins in small denominations dollars, euros or soles.
COSTS IN EXCLUSIVE SERVICE
We operate this tour without joining other tourists from other agencies. We serve only our tourists. We know that traveling to Machupicchu demands time and money and that is why we want your experience of visiting Machupicchu to exceed your expectations. Do not miss the opportunity to meet Machupicchu now with us!